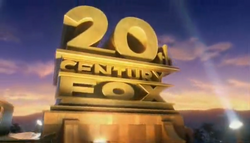 Twentieth Century Fox Film Corporation (also spelled 20th Century Fox or just simply Fox) is the major film company that distributes the Avatar movies.
The studio is one of the six major American film studios. Located in the Century City area of Los Angeles, just west of Beverly Hills, the studio is a subsidiary of News Corporation, the media conglomerate owned by Rupert Murdoch.
The company was founded on December 28, 1934, as the result of a merger of two entities, Fox Film Corporation founded by William Fox in 1915, and Twentieth Century Pictures, begun in 1933 by Darryl F. Zanuck and company.
The collaboration between Lightstorm Entertainment and 20th Century Fox can indirectly be traced back to a $500 million deal in 1992, which contracted James Cameron to develop twelve more movies with the company. The move followed the success of Terminator 2, which had recently been released. All of James Cameron's theatrical features from that point forwards, such as Titanic and Avatar, have been with the company.[1]
In 2017, Disney acquired 20th Century Fox as part of a $66.1 billion deal that gave Disney control of Fox's film and television studios, its domestic & international cable & satellite networks, regional sports networks, and its film library. The Fox broadcast network, locally affiliated stations, Fox News, and the Fox studio lot were not part of the deal.[2]
Notable past films and film franchises
Edit
Note: Some films listed here were only founded and/or distrubuted by 20th Century Fox, not necessarily produced directly by the studio.
The King and I (1956)
Cleopatra (1963)
The Sound of Music (1965)
The French Connection (1971)
Star Wars (1977-83, 1999-2005, 2015-)
Aliens (1979-97, 2012-)
Die Hard (1988-2013)
Titanic (1997)
X-Men (2000-)
Ice Age (2002-)
Avatar (2009-)
See also
Edit
Despite showing rather poor sales from movies like Percy Jackson and the Olympians: The Lightning Thief and The Tooth Fairy, 20th Century Fox manages to dominate Q1 sales of 2010 solely from year-over holdovers as a result of Avatar, which accounted for more than half of the company's sales.
External Links and Bibliography
Edit
References
Edit
Ad blocker interference detected!
Wikia is a free-to-use site that makes money from advertising. We have a modified experience for viewers using ad blockers

Wikia is not accessible if you've made further modifications. Remove the custom ad blocker rule(s) and the page will load as expected.