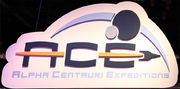 "
From the very start, our dream at Alpha Centauri Expeditions has been to open Pandora to all who crave exciting adventures in nature. After years of work, we're proud to soon be able to fulfill that dream. Join us on Pandora. The way to get there will be through Disney's Animal Kingdom. Believe me when I say, this bewitching place will transform you. I know it did me.

- Marshall Lamm

"
Alpha Centauri Expeditions, or ACE, is an eco tour group from Earth and the exclusive provider for tours to Pandora.[1][2] With humans being welcomed back to Pandora after the end of the Pandoran War, they provide transport for civilians to the moon.
A series of advertisements from the company were shown at the D23 Expo, in promotion of the upcoming theme park attraction Pandora: The World of Avatar at Disney's Animal Kingdom.[3] The founder of Alpha Centauri Expeditions, Marshall Lamm, made a public appearance at D23's Destination D: Amazing Adventures alongside James Cameron and Imagineer Joe Rohde to promote the attraction.[4] ACE has actively advertised in other ways at Disney conventions, including screening promotional videos and providing pamphlets to guests. These pamphlets include useful information on the tour itinerary and ads for travel gear.[5]
Alpha Centauri Expeditions launched a promotional website and social media accounts for their Pandora tours called Visit Pandora, including information on important ACE personnel. These personnel members, including field members, scientists from the Pandora Conservation Initiative, and expats living on Pandora, will provide expedition updates and answer questions from those planning Pandoran trips.[6][7] ACE can send online updates from Pandora to Earth in real time through an exoplanetary satellite.[8] The first image of Pandora posted on Visit Pandora social media channels was delayed due to compatibility issues. Said issues were later solved by downgrading to older interstellar communication specifications.[9][10]
Alpha Centauri Expeditions' interstellar travel license number, as shown in a pamphlet at D23 Expo 2015, is 19982007DAK-8802009. 1998 is the year that Disney's Animal Kingdom opened and DAK is an abbreviation for the park. 880 refers to Project 880 and 2009 is the year the first Avatar film premiered.
References
Edit
Ad blocker interference detected!
Wikia is a free-to-use site that makes money from advertising. We have a modified experience for viewers using ad blockers

Wikia is not accessible if you've made further modifications. Remove the custom ad blocker rule(s) and the page will load as expected.