| | | |
| --- | --- | --- |
| " | This exhibition is an ideal way to share new and exciting insights into life on Pandora - Steve Moster, president of GES | " |
Avatar: Discover Pandora
General Information
Date

December 7, 2016-present

Location

Global Tour
Avatar: Discover Pandora is a traveling exhibition focusing around the world seen in the Avatar franchise.
Background
Edit
The exhibition was preceded by a North American exclusive simply entitled Avatar - The Exhibition, which toured across the US and Canada in 2011-14, a venture by EMP. The global successor however is unrelated to the EMP-led precursor, and is instead the product of a 2015 deal between Twentieth Century Fox, Lightstorm Entertainment and Global Experience Specialists. GES usually cater for more stately affairs such as corporate events, but in the past they have also covered entertainment-oriented shows such as the tenth anniversary exhibition for the Halo franchise.[1] Avatar - The Global Exhibition was unveiled on the 23rd of April, 2015 in an article on PR Newswire.[2] The exhibition was later retitled Avatar: Discover Pandora, and announced the first stop in Taipei, Taiwan on September 19, 2016.[3] It opened in Taipei on December 7th.[4] Avatar: Discover Pandora's Taipei run is intended to last three months. GES worked in partnership with Taiwanese toy manufacturer and distributor Beast Kingdom Co., Ltd. to bring the exhibit to its Taipei venue, the Xinyi Theatre on the sixth floor of Shin Kong Mitsukoshi's Xinyi Place A11 store.[5]
Description
Edit
The exhibition covers a 12,000 square foot area (0.3 acres) with interactive displays that highlight Pandora. The event frames Pandora in a real-world context, as though it was a real place that could be visited and explored. Within this context, the exhibit is presented by the Pandorian Research Foundation. The artifacts and specimens featured in the exhibit were curated by scientists from the RDA's Avatar Program, who left Pandora more than six years before the start of the exhibition.[6] The 45 minute tour includes:
With guidance from scientists, the exhibit also has a real world educational component, connecting the fictional Avatar concepts to real world science. A Teacher's Guide is provided on the official website to help teachers make lesson plans for field trips and tie the experience into the class curriculum and national educational standards.[7]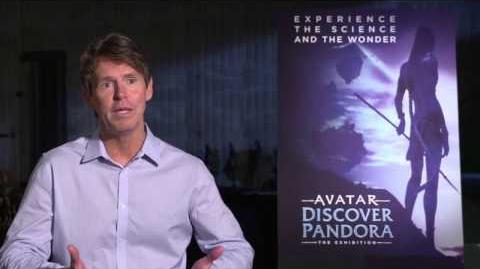 References
Edit
Ad blocker interference detected!
Wikia is a free-to-use site that makes money from advertising. We have a modified experience for viewers using ad blockers

Wikia is not accessible if you've made further modifications. Remove the custom ad blocker rule(s) and the page will load as expected.