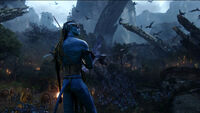 Avatar Wiki
is a community that aims to create the best resource for the
Avatar series
of movies, and the universe they take place in.
We are currently editing over 844 articles since July 2009, and keeping them growing!
All pages can be edited and you are welcome to join us and contribute to this wiki. Everyone is free to create a new page or edit an existing one. If you have any questions about the wiki or helping out, you can ask one of the administrators of Avatar Wiki. We'll be happy to help! If you would like to consult with other users, the IRC Channel and the community forum are always a good option!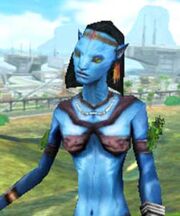 Sylwanin te Tskaha Mo'at'ite is the daughter of Eytukan and Mo'at and the older sister of Neytiri. She first appeared in James Cameron's Avatar: iPod/iPhone Game where she told the story of an avatar driver named Ryan Lorenz to Neytiri, who narrates the story to players of the app. In the final chapters of the story, Sylwanin is abducted by a human raiding party, and is eventually rescued in a heroic raid by Lorenz and a party of Na'vi.
February 5, 2016

The soundtrack is released on Itunes.[1]

February 2, 2016

January 27, 2016

Avatar Wiki has a new admin: Cadellin

January 23, 2016

Avatar 2 and the other sequels are delayed by six months, possibly due to a scheduling conflict between it and Star Wars- Episode VIII. Avatar 2 is now scheduled for Summer 2018[3]

January 22, 2016

Toruk returns to the United States, with a week of performances in Auburn Hills, Michigan. A soundtrack is also announced in the form of an Itunes release.[4]
The Toruk - The First Flight shows at the Centre Videotron, Quebec conclude. The recordings of the event will be released as a DVD at some point in the future.[5]

January 6, 2016

Avatar's domestic box office record is broken by Star Wars: The Force Awakens.[6]

December 21, 2015

Toruk has its Canadian debut in Montreal, Quebec.

December 11, 2015

Cameron gives a small update on the progress with the sequels, stating that while small refinements on the scripts are still taking place, "the characters, settings and creatures are all pretty much [set]".[7]

December 4, 2015

An interview with James Cameron and other staff from Toruk goes up on Facebook. The interview confirms a rough date for the story of 837 BC.[8] (3,000 years before the events of the film)

November 27, 2015

A promotional ticket-giveaway for Toruk is enacted, with a quiz on Facebook.[9]
For an archive of older news, see the timeline of real-world events.
Create blog post
Blogs
So, do you know if the new Avatar-Land opening in 2017 at AK in Disney World will have attractions based-around the original film, or the sequels?

Read more >




It appears the long-awaited sequel to 2009's Avatar is *finally* heading into production! ComingSoon.net reports that principal photography for Avatar 2 is set to begin sometime this April, once agai…

Read more >

Ever since the Ubi shut down the game servers, I've searched for info on how to get access to the unlocked weapons and armors we had. I think the files should be on our computer but somewhere in the …

Read more >
See more >