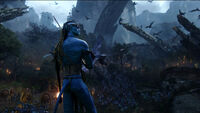 Avatar Wiki
is a community that aims to create the best resource for the
Avatar series
of movies, and the universe they take place in.
We are currently editing over 904 articles since July 2009, and keeping them growing!
All pages can be edited and you are welcome to join us and contribute to this wiki. Everyone is free to create a new page or edit an existing one. If you have any questions about the wiki or helping out, you can ask one of the administrators of Avatar Wiki. We'll be happy to help! If you would like to consult with other users, the IRC Channel and the community forum are always a good option!
Sylwanin te Tskaha Mo'at'ite is the daughter of Eytukan and Mo'at and the older sister of Neytiri. She first appeared in James Cameron's Avatar: iPod/iPhone Game where she told the story of an avatar driver named Ryan Lorenz to Neytiri, who narrates the story to players of the app. In the final chapters of the story, Sylwanin is abducted by a human raiding party, and is eventually rescued in a heroic raid by Lorenz and a party of Na'vi.
June 20, 2017

June 8, 2017

June 5, 2017

May 27, 2017

May 24, 2017

May 16, 2017

May 8, 2017

May 6, 2017

April 28, 2017

April 22, 2017

March 26, 2017

March 9, 2017

March 3, 2017

February 28, 2017

February 26, 2017

February 13, 2017

February 8, 2017
For an archive of older news, see the timeline of real-world events.
Create blog post
Blogs
I've seen this concept art related to Avatar movie several times, but for some reason I've dismissed it as fan art, and never paid much attention to it. Eventually I was able to find such an image wi…

Read more >

Hey guys! You're probably wondering what this blog post is about. Well, let me tell you. I am going to start researching soon and in the near future will be writing a letter to Mr. Cameron himself ex…

Read more >

This is an article from Wikia Community Central:


We're always working hard to make Wikia better by adding new features and improving existing ones. In order to give our communities a heads-up on new f…

Read more >
See more >
Ad blocker interference detected!
Wikia is a free-to-use site that makes money from advertising. We have a modified experience for viewers using ad blockers

Wikia is not accessible if you've made further modifications. Remove the custom ad blocker rule(s) and the page will load as expected.