Battle Camp Paint Brush
Item Information
Size

Various

Location
Used by
Usage

A ceremonial brush used with warpaint

Weight

Roughly .5 kilograms.

Behind the Scenes
First Appearance
The
battle camp paint brush
is used to adorn both hunter and mount with various symbols. Each hunter or warrior develops his or her own iconography, based upon the experiences they have had and their successes in the hunt or battle. Markings can be aspirational - an ochre stripe on the right arm may mean that the hunter seeks a
sturmbeest
that day. In general, the ceremonial painting is a way of "psyching up" for the dangers that await and also to create fear and confusion in the hunted.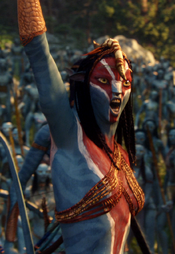 Some of the symbols are used to endow certain animals with special protection. An animal (such as a viperwolf or sturmbeest, for example) will occasionally show remarkable bravery or kindness, or has proven helpful to a member of the Omaticaya clan. The animal is then marked "protected" using the symbology of the clan and will not be harmed by other clans. This is usually done through branding, paints or decoration (unless the animal is so aggressive as to preclude such markings).
One is briefly visible in the unfinished "Battle Camp" scene in the extended collector's edition; in that case being used to paint the markings on Samson 16.
Materials and Construction
Edit
Tightly woven fiber, wood, leather, plant sinew. The wooden handle is carved and shaped from a nonporous hardwood. The decorative parts are woven and constructed.
Painting is meticulous. It is considered sloppy for paint to interfere or cover the bioluminescent markings of man or animal.

Ad blocker interference detected!
Wikia is a free-to-use site that makes money from advertising. We have a modified experience for viewers using ad blockers

Wikia is not accessible if you've made further modifications. Remove the custom ad blocker rule(s) and the page will load as expected.