Bladder Lantern
Item Information
Na'vi Name

Tmi nat'sey

Size

Roughly 1 meter (3.3 feet) high

Used by
Usage

Light source

Weight

5 kilograms

Colour

Various

Behind the Scenes
First Appearance
The bladder lantern (Na'vi name: tmi nat'sey meaning "food here") is a light source used by the Na'vi. While the Na'vi have excellent night vision, augmented by the natural bioluminescence of the plants and animals of Pandora, they enjoy the calming glow that the lanterns give off.
Description
Edit
These lanterns are used as light source in Na'vi villages, or wherever light is needed.
Materials and Construction
Edit
Lantern consists of the stomach (or thin-skinned internal organs) of various animals, dried and sewn with twine and leather. The organ's interior is coated with nectar to attract an indigenous glowing insect similar to a Terran firefly, the Glow worm. Those insects, in turn, attract more of their kind, perpetuating and increasing the lantern's glow.
Though the Na'vi have naturally excellent night vision, they enjoy the calming glow provided by these lanterns inside Hometree.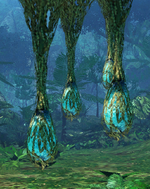 Ad blocker interference detected!
Wikia is a free-to-use site that makes money from advertising. We have a modified experience for viewers using ad blockers

Wikia is not accessible if you've made further modifications. Remove the custom ad blocker rule(s) and the page will load as expected.