Canoe Paddle
Item Information
Na'vi Name

K'tsik set'ma s'ashk'ey, or k'tsik informally

Size

2 to 3 meters

Location
Used by
Usage

Propulsion of canoe

Colour

Light tan

Behind the Scenes
First Appearance
The canoe paddle (Na'vi name: k'tsik set'ma s'ashk'ey meaning "knife cuts water") is a tool used to propel and steer canoes.
Materials and Construction
Edit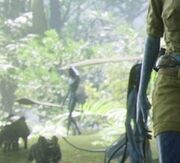 They are made from woven and bound reeds and twine, incorporating traditional design and styles handed down through generations. The weave of the paddle helps determine the kind of stroke to be used by paddler.