Although designed primarily as flight control towers, these structures are fully equipped should the need arise for high level remote command. The reinforced concrete bases are specifically designed to prevent scaling by large Pandoran predators, and the tops of the towers are equipped with repulsors to prevent avian creatures from perching on the roof. One of these has been built at the airfield in Hell's Gate for monitoring air traffic.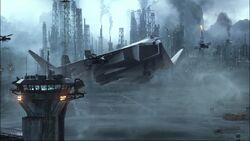 Ad blocker interference detected!
Wikia is a free-to-use site that makes money from advertising. We have a modified experience for viewers using ad blockers

Wikia is not accessible if you've made further modifications. Remove the custom ad blocker rule(s) and the page will load as expected.