Avatar Flight of Passage is a ride in the theme park attraction Pandora: The World of Avatar.
Flight of Passage is a motion simulator flight through Pandora on the back of a Banshee. Disney described the ride at D23 2015 as "a birds-eye view of the beauty and grandeur of the world of Pandora on an aerial rite of passage."[1] The ride has been referred to by Disney as an "E-ticket attraction"[2], a term used to describe major attractions at Disney parks[3], and "the centerpiece of Pandora".[1]
Storyline
Edit
In the attraction, guests are lead through a cave entrance with Na'vi paintings on the walls. This leads to a former Resources Development Administration mining facility now used by the Pandora Conservation Initiative's Mountain Banshee Project for research purposes. Guests are then moved to the Genetic Matching Room, where they're scanned and matched to an avatar after undergoing decontamination for Pandoran parasites.[4]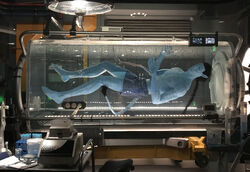 The Avatar Program technology was advanced by the PCI.
[5]
Instead of linking through a
unit
to their own specific avatar made using their own genetic information, guests have genetic material collected through the GMR. This material is then matched to a pre-existing avatar that shares genetic similarities. Guests are then lead to the link chair room, where they're linked to said avatar that's already in flight on the banshee.
[4]
Guests are guided through the decontamination and genetic matching process by PCI scientist Dr. Stevens. He also explains more about the technology used to link the guests to their avatars and how they're researching the banshee, a Pandoran keystone species , to measure the recovery of Pandora's ecosystem. Guests are also introduced to Dr. Jaclyn Ogden, the PCI scientist and banshee researcher that restarted the Avatar Program and created the link chair system. Through a video shown by Dr. Stevens, Dr. Ogden explains the significance of the Iknimaya Rite of Passage that guests are about to experience and shows them the boarding & safety procedures for the link chairs.[6]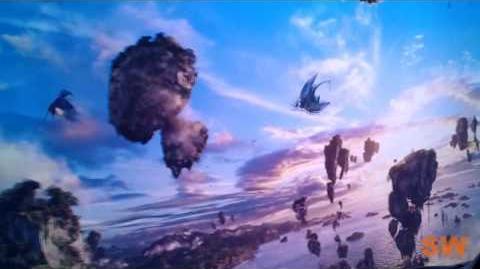 After the queue area, guests are lead to the Link Chamber and seated in the link chairs, sixteen in total, that allow them to feel the movement of the banshee that their avatar is riding.[7][4] After being linked, passengers are guided by a more experienced banshee-riding Na'vi flying ahead of them.[8] Guests also get to face off against a Great Leonopteryx.[9] Sights seen during the ride include the floating mountains, the ocean, a stampede, flying under a wave, and a beautiful ending overlook.[10] Other Na'vi are seen throughout the ride.[11] Other effects felt during the ride include a mist effect when nearing a waterfall, forest smells in a rooftop canopy, perfume-like smells near bioluminescence, and other smell effects for the ocean and a stampede.[10]
Development
Edit
A video from the ride was shown briefly at D23 Japan 2013.[12] Another preview of the attraction was shown during the television airing Disney Parks Magical Christmas Celebration program on December 25th, 2016, previewing the ride system with similarities to another Disney aerial ride attraction, Soarin'.[13] When Disney told James Cameron that they wanted to do a banshee ride, Cameron described what he wanted from it as "Soarin' Over Pandora".[14] The ride incorporates other familiar technology from other Disney rides, including smells and mist effects.[11]
The Good Morning America preview of the ride showed off special 3D goggles developed for the attraction, which are larger and have lighter lenses than goggles for similar rides.[15] The ride was described on the Nightline preview as a "virtual reality experience".[7] A leaked screenshot of a video of Imagineers testing Flight of Passage showed that early in development, ride vehicles were intended to actually resemble banshees with two people seated per vehicle.[16]
The prototype for the ride was developed in Glendale, California, which Na'vi language creator Paul Frommer rode. He also advised on the spoken Na'vi used on the ride.[17]
PCI scientist lockers in the queue area include various books, including Jane Goodall's Reason for Hope: A Spiritual Journey and Douglas Adams' The Salmon of Doubt.[18]
One of the ride theaters features a set of three red handprints with the initials JC, JR, and JL. These handprints belong to James Cameron, Joe Rohde, and Jon Landau respectively.[19]
The company that shored up the walls of the RDA structure that guests walk through is mentioned as JC Shoring, with the number 081654 below it. August 16, 1954 is James Cameron's birthday.[20]
References
Edit
↑ 1.0 1.1 http://www.wdwmagic.com/attractions/avatar/news/15aug2015-avatar-land-is-officially-named---pandora---the-world-of-avatar.htm
↑ https://disneyparks.disney.go.com/blog/2015/08/pandora-the-world-of-avatar-will-be-new-land-at-disneys-animal-kingdom/
↑ http://blogmickey.com/2017/03/official-backstories-shops-eateries-attractions-around-pandora-world-avatar/
↑ 7.0 7.1 http://wdwnt.com/blog/2017/03/photos-video-new-6-minute-behind-scenes-look-pandora-reveals-ever-banshee-virtual-reality-ride/
↑ https://blogmickey.com/2017/03/additional-details-flight-passage-ride-appear-mickey-monitor-newsletter-annual-passholders/
↑ 10.0 10.1 http://blogmickey.com/2017/05/review-flight-passage-provides-exhilarating-experience-high-pandora/
↑ 11.0 11.1 http://www.insidethemagic.net/2017/04/inside-look-disneys-new-flight-passage-ride-delivers-fully-immersive-emotional-journey-linking-guests-avatar/
↑ http://wdwnt.com/blog/2017/03/photos-video-look-inside-pandora-world-avatar-flight-passage-banshee-thrill-ride-animal-kingdom/
↑ http://wdwnt.com/blog/2017/02/breaking-leaked-image-reveals-ride-vehicle-avatar-flying-banshee-attraction-disneys-animal-kingdom/
↑

Flight of Passage queue
Ad blocker interference detected!
Wikia is a free-to-use site that makes money from advertising. We have a modified experience for viewers using ad blockers

Wikia is not accessible if you've made further modifications. Remove the custom ad blocker rule(s) and the page will load as expected.