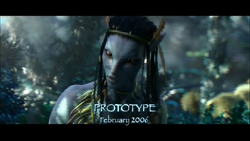 The ILM Prototype was a technical demonstration video completed in February 2006, to test the technology that would be used for the first film. It is only 37 seconds long, a sequence from Neytiri and Jake's first meeting. As the official casting call had not yet been put out, temporary actors Yunjin Kim and Daniel Bess played Neytiri and Jake, respectively.[1] The short was included in the extended collector's edition of Avatar.[2]
Background
Edit
The film was intended as a VFX reel, not only to test the technology but to be put forward as part of the pitch for the first film. It developed on the technology for Brother Termite, a short produced in 2001 using motion capture technology. Fox supported the team through 2006. [1]
Shooting commenced on August 30th, 2005, and the footage then went to ILM for the visual effects as Weta Digital had not yet signed on to the film. Avatar was greenlit in early 2007.
References
Edit
Ad blocker interference detected!
Wikia is a free-to-use site that makes money from advertising. We have a modified experience for viewers using ad blockers

Wikia is not accessible if you've made further modifications. Remove the custom ad blocker rule(s) and the page will load as expected.