James Cameron's Avatar: The Game (Mobile)
Talk

4
737pages on
this wiki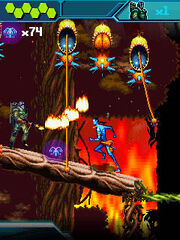 James Cameron's
Avatar
takes us to a spectacular world beyond imagination, where a reluctant hero embarks on a journey of redemption and discovery as he leads an epic battle to save a civilization. In the official Avatar mobile game, the planet
Pandora's
last hope lies with the human
Jake Sully
. Transferring his consciousness into a
human
-
Na'vi
hybrid, Jake undertakes his mission as an
avatar
. Join Jake in the mobile game's original, action-packed adventure. Undertake a mission to liberate a planet, unite the Na'vi tribes, and revive the legendary Sacred Weapon. As Jake, you'll explore lush jungles, soar through the skies on a banshee, survive ferocious battles, and develop fantastic powers in your struggle to save a world and its inhabitants.
The official mobile game of James Cameron's Avatar is an independent storyline of the film that extends and expands your understanding of the Na'vi people. A varied gaming experience with action/adventure and science fiction levels and shoot'em up sequences where you ride a banshee in the skies of Pandora makes up a very large section of this game. Play as Jake and explore the world of Pandora through 7 environments (jungles, mines, waterfalls and more). A new generation of platformer thanks to the Organi engine allowing physical interaction with Pandora's world.
The game is a sidescrolling platformer, with a small combat aspect. The game is arranged in a series of levels that must be completed, along with a few bonus flying levels. In each level the player can collect woodsprites, which are used to purchase upgrades. There are also totems dotted around the various maps which can be used to pray to Eywa and gain additional woodsprites.
Note: The story of this game conflicts with that of the film
Jake Sully was on his first mission out on Pandora in his Avatar body and Grace Augustine was in radio contact with him. While marking any unobtanium deposits, Jake noticed Neytiri running, and asked Grace what he should do. Grace encouraged him to stay in contact with the Na'vi. Jake followed Neytiri, and when he finally caught up with her, he fell unconscious. Jake awoke in his dream-hunt and a spirit came to him speaking in Na'vi, Jake didn't understand and followed the spirit. The spirit then showed him Pandora burning and asked Jake, who now understood the spirit, to help the Na'vi and stop the humans who are burning the forest. Jake did as he was asked and the dream hunt ended. Naytiri noticed a totem on Jake's hand that had appeared there and knew where she should be and ran off again. Jake followed her with his banshee, but some humans tried to stop him and he crashed. Grace then contacted Jake and said that the humans have placed some explosives in the area to destroy Na'vi villages who opposed them. Since Jake was in the area, he decided to disarm the explosives on his way to the mining complex. At the unobtanium mine Jake again contacted Grace to find out where the Na'vi prisoners were held. Grace did so and found out that Neytiri was also captured. Jake hurried to Neytiri and Tse'huk, who was the leader of the Ni'awve clan and managed to save them. Tse'huk then asked Jake to go to the Tree of Souls of the Ni'awve, because humans were on route there to destroy it. Jake again took off with his banshee and flew to the Hallelujah Mountains. He encountered heavy resistance on the way and managed to down a Dragon Assault Ship. He landed his injured banshee and climbed the remaining way up to the Tree of Souls. Jake fought several humans who tried to stop him, and then he awoke the Sacred Soul of Pandora. Grace then contacted Jake that she had to move his human body, since Quaritch wanted to shoot him. She begged him to disconnect, but Jake refused and broke contact with her saying to keep his human body safe.
Characters
Edit
There are some mistakes in the game; for example the introduction states that the year is 2086 instead of 2154. Colonel Quaritch's name was also misspelt "Quarritch".
John Cage is the final boss of the game although John was killed by Ryan Lorenz 20 years ago.
| | |
| --- | --- |
| | There is an image gallery for |