Nikiro
Biographical Information
Name

Nikiro

Lives in
Physical Description
Species
Gender

Male

Family Information
Family Members

Unknown

Affiliations
Occupation

Warrior

Loyalties
Behind the Scenes
Voice

Unknown

First Appearance
Nikiro is a Na'vi warrior in Tantalus region on Pandora. He is located in the Na'vi village on the way from Nesting Grounds to The Great Wall. He uses Pandora's Protection skill. Nikiro is only visible when Able Ryder joins the Na'vi side.
Since the area is inaccessible to the player through normal means, it can be guessed that the character has been removed from the story. Further proof of that theory is the "FIX ME!" tag on his name.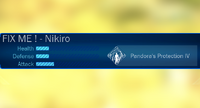 Ad blocker interference detected!
Wikia is a free-to-use site that makes money from advertising. We have a modified experience for viewers using ad blockers

Wikia is not accessible if you've made further modifications. Remove the custom ad blocker rule(s) and the page will load as expected.