Ops Halo Station
Machine Information
Created by
Used by
Usage

Navigation and military tactics

Behind the scenes
First appearance
Ops Halo Stations are large holographic projection tables used to provide 3D imaging of topography and battlefield operations. These are generally linked to satellites to provide tracking of units in real time, and are frequently used to stage large scale training exercises and tactical war game simulations.
There is one of these at the heart of the Operations Center in Hell's Gate.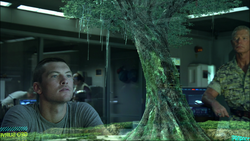 Ad blocker interference detected!
Wikia is a free-to-use site that makes money from advertising. We have a modified experience for viewers using ad blockers

Wikia is not accessible if you've made further modifications. Remove the custom ad blocker rule(s) and the page will load as expected.