Swotu Rumayo
Location Information
Location
Residents
Behind the scenes
First appearance

Swotu Rumayo is an area in Vaderas Hollow, and is also the most south westerly point of the region. There are two paths in, both of which connect into the Stretch.
Avatar: The Game
Edit
Able Ryder entered the area while searching for harmonics to retrieve an unobtanium shard.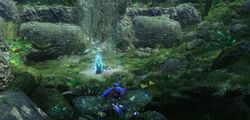 Ad blocker interference detected!
Wikia is a free-to-use site that makes money from advertising. We have a modified experience for viewers using ad blockers

Wikia is not accessible if you've made further modifications. Remove the custom ad blocker rule(s) and the page will load as expected.