Toruk- The First Flight
General Information
Date

October 28 2015 (media-only premiere)[1]
Main run: November 12 2015[2] till at least 2017

Location

Tour across US, Canada and China[3]

Running time

2 hours, including a 20 minute intermission[4]
Toruk- The First Flight is a touring show performed by Cirque du Soleil. It is set thousands of years before the events of the films, detailing the adventures of the first Toruk Makto. The story is narrated by the last of the Anurai Clan.[5] A DVD version of the two-hour event will be released in the future.
The story takes place on Pandora, around 3,000 years prior to the events of the film.[6]
When a natural catastrophe threatens to destroy the sacred Tree of Souls, Ralu and Entu, two Omaticaya boys on the brink of adulthood, fearlessly decide to take matters into their own hands. Upon learning that Toruk can help them save the Tree of Souls, they set out, together with their newfound friend Tsyal, on a quest high up in the Floating Mountains to find the mighty red and orange predator that rules the Pandoran sky. Prophecy is fulfilled when a pure soul rises among the clans to ride Toruk for the first time and save the Na'vi from a terrible fate.[7]
Development
Edit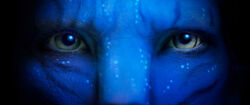 Talks on the project go back as far as 2009, when Danielle Lamarre, the president of Cirque du Soliel, was invited to Avatar's cutting room floor. James Cameron collaborated with the group in 2012, presenting the video recording of the live show Worlds Away.[8] Toruk was greenlit in May 2014, some five years after those initial talks.[9]
A series of acrobatics tests were done during February 2015,[10] ahead of the official unveiling that May.
The stage show features a degree of puppetry in order to animate the wild and diverse creatures of Pandora. Notably the Toruk will be created using reverse-string puppetry, with the puppeteer beneath the creature. Other creatures include Viperwolves and Direhorses, as well as two creatures new to the franchise- the Austrapede and Turtapede.[11]
Promotion
Edit
The musical was unveiled publicly that April. As part of the announcement, a promotional website was launched, featuring a JavaScript-based point and click search game about exploring Pandora. The game revealed more lore and information about the Omaticaya, Tipani, Anurai, Tawkami and Kekunan clans. The website marked the first official appearance of the Kekunan.
That October, a special performance was made ahead of the opening night for the media. Further promotion was made through Facebook and other social media, including a ticket-giveaway quiz in November.[12]
Production Credits
Edit
The project was handled by an ambitious team of artists from various companies. Notably this included James Cameron, Jon Landau, Kathy Franklin and Richie Baneham from Lightstorm Entertainment.
Guy Laliberté and Jean-François Bouchard – Creative Guides
Michel Lemieux and Victor Pilon – Show Writers and Directors, Multimedia Directors
Neilson Vignola – Director of Creation
Carl Fillion – Set and Props Designer
Kym Barrett – Costume and Makeup Designer
Tuan Le and Tan Loc – Choreographers
Bob & Bill – Composers and Musical Directors
Jacques Boucher – Sound Designer
Alain Lortie – Lighting Designer
Patrick Martel – Puppet Designer
Germain Guillemot – Acrobatic Performance Designer
Pierre Masse – Rigging and Acrobatic Equipment Designer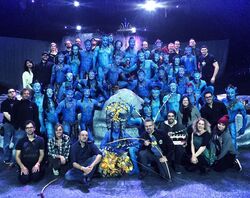 Some characters have multiple actors- this is sometimes done in theater to facilitate speedy costume changes, or in some cases to provide rest breaks for actors performing strenuous acrobatics.
Home Media Release
Edit
The January 14-17, 2016 shows at the Centre Videotron were recorded, and will be released as a DVD at some point in the future. The announcement was made via the show's Facebook page the day photography concluded.[14] A soundtrack is also scheduled for release on February 5th; the album became available for preorder on January 22nd.[15]
Touring Locations
Edit
Starting in November 2015, the performance toured the following North American cities. The performance in Raleigh was cancelled in response to North Carolina's HB2 legislation,[16] which many view as being discriminatory.[17] A number of other events and performances in North Carolina were cancelled by both Cirque and other organisations.
Show Venues
Venue
Country
Opens
Closes
Bossier City, Louisiana
USA
November 12 2015
November 14 2015
Lafayette, Louisiana
USA
November 20 2015
November 22 2015
Richmond, Virginia
USA
November 27 2015
November 29 2015
Allentown, Pennsylvania
USA
December 4 2015
December 6 2015
Worcester, Massachusetts
USA
December 11 2015
December 13 2015
Montreal, Quebec
Canada
December 21 2015
January 3 2016
Toronto, Ontario
Canada
January 7 2016
January 10 2016
Quebec, Quebec
Canada
January 14 2015
January 17 2015
Auburn Hills, Michigan
USA
January 22 2016
January 24 2016
Houston, Texas
USA
February 11 2016
February 14 2016
North Little Rock, Arkansas
USA
February 17 2016
February 21 2016
North Charleston, South Carolina
USA
February 26 2016
February 28 2016
Sunrise, Florida
USA
March 3 2016
March 6 2016
Miami, Florida
USA
March 10 2016
March 13 2016
Tampa, Florida
USA
March 17 2016
March 20 2016
Tulsa, Oklahoma
USA
March 24 2016
March 27 2016
Kansas City, Missouri
USA
March 30 2016
April 3 2016
Oklahoma City, Oklahoma
USA
April 6 2016
April 10 2016
Louisville, Kentucky
USA
April 28 2016
May 1 2016
Cincinnati, Ohio
USA
May 4 2016
May 8 2016
Columbus, Ohio
USA
May 11 2016
May 15 2016
Hamilton, Ontario
Canada
May 20 2016
May 22 2016
London, Ontario
Canada
May 25 2016
May 29 2016
Providence, Rhode Island
USA
June 1 2016
June 5 2016
Duluth, Georgia[18]
USA
June 15 2016
June 19 2016
Raleigh, North Carolina (cancelled)[19]
USA
June 22 2016
June 26 2016
Ottawa, Ontario
Canada
June 30 2016
July 3 2016
Denver, Colorado
USA
July 21 2016
July 24 2016
Lincoln, Nebraska
USA
July 27 2016
July 31 2016
Chicago, Illinois[20]
USA
August 3 2016
August 7 2016
Indianapolis, Indiana
USA
August 10 2016
August 14 2016
Birmingham, Alabama
USA
August 19 2016
August 21 2016
Nashville, Tennessee
USA
August 24 2016
August 28 2016
Evansville, Indiana
USA
September 1 2016
September 4 2016
Brooklyn, New York
USA
September 7 2016
September 11 2016
Newark, New Jersey
USA
September 14 2016
September 18 2016
Milwaukee, Wisconsin
USA
September 22 2016
September 25 2016
Minneapolis, Minnesota
USA
September 28 2016
October 2 2016
Winnipeg, Manitoba
Canada
Ocotber 5 2016
October 9 2016
Ontario, California
USA
November 2 2016
November 6 2016
Los Angeles, California
USA
November 11 2016
November 13 2016
Phoenix, Arizona
USA
November 16 2016
November 20 2016
San Diego, California
USA
November 23 2016
November 27 2016
Philidelphia, Pennsylvania
USA
March 8 2017
March 12 2017
After the US and Canada tour concludes, there will be a Chinese tour in 2017. The only city confirmed so far for the Chinese leg is Hangzhou, Zhejiang Province.[3]
References
Edit