IT'S NOT ABOUT WHAT LIFE WE LIVE. IT'S ABOUT HOW WE LIVE IT.
AVATARADDICTED
Biographical Information
Lives in
Clan
Banshee?

Yes -Toruk also owned-

Occupation
Physical Description
Species
Status

Alive

Gender

Male

Affiliations
Title(s)
Loyalty
Behind the Scenes
Portrayed by

Nick Chatziioannidis

First Appearance

9th of May 1994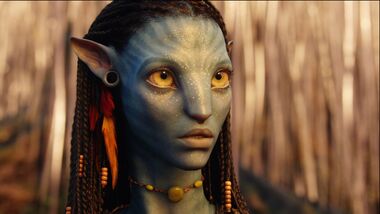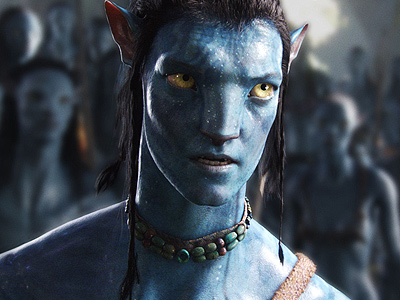 ABOUT ME
My name is Nick, I'm 17 and I live in Greece (unfortunatelly) , although I am very proud to call myself Greek. I'm half Greek, half French. I also have roots from Russia, Scotland, Spain and Constantinople (Istanbul). Also, as my username suggests , I'm addicted to AVATAR. That's because I haven't seen a more wonderful, moving, touching, pure and complete movie. Actually, you forget that you're waching a movie. You feel as if you're in it. An experience like no other. If I was able to make a wish, that would be to be reborn on Pandora alongside Neytiri, the most pure character that has ever existed and her mate, Jake Sully, an emotional warrior, dissapointed by life. The reason I'm so identified with this character is because I'm also dissapointed of my life - have been for about 12 years now. Anyway, the following is a VERY BRIEF description of my childhood. Actually, if it was measured on a % scale, the following would be a 3 % of what I've been through, so far. You see, before my parents got divorced, I knew who I was and I thought I was happy. But I knew, deep in my heart, that I was not. My parents marriage was an ugly one. Every day, me and my little brother watched, as the marriage went to hell. My parents were fighting every minute, every second of every day. My dad used to hit us. Actually, he did that until I reached 7 and my little brother reached 5. Before that age, if a day had passed and he hadn't hit us, me and my brother believed that there must have been a miracle. I was good at drawing and at school. I was the top of my class. That's because I spent more time reading, than listening to my parents fight. I prefered that, actually. It was a way of escape. Then my grandfather dies, 2 years later my grandma, the next year, my parents get a divorce. The event that changed me. You see, I was the strong one in the family. Emotionally strong. So, when my parents got divorced, the whole situation was put on MY shoulders.MY shoulders! And I was just a kid ,11 years old. And my dad is the one to be blamed for it. He played the weak, the dissapointed, the misunderstood and seeked for support. My father, was and still is emotionally weak. Very weak. I was strong. So he tried to point me against my also weak - though not as weak as my dad - mom. She was right to ask for a divorce, but she couldn't handle it. So my dad said that my mom was cheating on him, that she wants to sell the house, including our memories, blah, blah, blah. I felt betrayed, devastated.Fell for it. My dad made me write this letter, which would state that I would never forgive her for what she'd done and that I hate her. Then, he told me to read that to her. When she came home smiling as always, I felt torn apart. She asked me if I was alright and I replied a dry "yes", but inside, I was in pain. Scared. I knew I had to remove that smile from her face.I didn't want to do it, but I had to, because I thought that my dad was right about her. I took shakingly some steps to her, feeling like a monster, like the worst person in the world to hug her. Because I would ruin her entire good mood. I was thinking:"It's all my fault. I shouldn't live". I read the letter to her. As I was reading, she was crying and I was struggling not to even blink. I was starting to tremble. Everything were burning me. Every word I said, like a sword, like hot steel on my skin.Tried to look expressionless.That was the most difficult think I've ever done. Anyway, I was not a robot, so my eyes were starting to fill up with tears, I couldn't hold 'em back, so I turned my back, but continued reading,trying to keep my voice steady. In the inside, I wanted to commit suicide, burned alive. Im wondering, how will I ever be the same again, after all this? There are wounds, time cannot heal, wounds that have taken hold of you.I was and still am wondering, how will I ever be the same. But, I know deep in my heart, that there IS no going back. You just have to keep fighting. Because, whatever doesnt kill you simply makes you stronger and at some degree, stranger. Because you have to change to overcome problems. If you didnt change, you wouldnt be able to overcome them, at all. The thing is, that in order to fight, you need tools and to find tools you need to find yourself.I have lost myself and I'm desperatelly trying to find him.The funny/sad thing is, that myself is hiding inside me, bared underneath my problems.So anyway,after a few weeks, my mom told me that my dad is a liar and that she's innocent. I was poisoned by my dad's words, but something inside me believed that mom was tellin' the truth. I didn't know what to believe. Who should I support? My dad or my mom? That's another reason I'm so identified with Jake. He becomes torn between following his heart or his orders. My heart was telling me that I should support my mom, but my dad's words had poisoned my mind. Anyway, the divorce ended in a bad way, I had lost myself and I didn't know AND STILL DON'T know who I am. After that, I evolved serious anger issues, which I still have. Then I had to accept moms new boyfriend, dads new girlfriend and many more. Bottom line? All these years, I thought I was in a perfect family and always wanted to help other people. I got drained by my dad and as a result, I lost myself which I desperately seek for, up until today. All these years, have changed me.BIG TIME. I grew sharply,mentally.I don't smile anymore, I think differently, more mature, than kids in my age, thing that makes it difficult for me to find friends.I'm trying to smile, to look like the others, but I can't. Bassically, I can resemble of an old man. Tired and weird.I always have a sad, desicive and tired look, as if something's goin' on. That may be annoying for some people.They think: " What's wrong with this guy? Can't he find joy anywere?". The answer is simple: NO. Only when I watch Avatar, I feel better. All in all, I may not be paralysed physically, but I'm paralysed emotionally. That's why I'm so identified with Jake. 'Cause he was paralyzed, both emotionally and physically. Then, he finds true love and eventually finds himself in his Avatar body for life, a true life that actually means something. Here on Earth, most are disconnected. People fight their own brothers and sisters to the death. On Pandora, you touch braids together with your true love, and you get a free night of sensual gratification. The Na'vi have a connection. All of 'em. Here, almost everyone wants to do things, as long as they work good for him. And that is the achilles heel of human civilization. We don't "SEE" or "FEEL". There are minor exceptions and I am glad to be in that "list". So, to come to a conclusion, this wiki is a place where I can trully be who I am and write anything I feel ,without the fear of being critisised. 99% of the people who hear me saying that I have depression, go like:"C'mon you're 17. Live your life". What they dont understand is that depression dosnt pick ages. And thet they dont get it...They really dont get it...They didnt have the life I had...They didnt go through impossible situations, like me...My life has been shity, unlike their perfect little life...They have to undertand that...So what I am 17? I have been through things that are giving me depression. Moreover, I may be 17 but I feel like I'm 80. Also, physical matters don't have to do anything with the soul. Some old people, 40, 50 years old, feel like 20. Age dosn't matter, at all. Anyway, I'm being criticised all the time. Because most people don't understand me or, consider me an outcast. Because I'm different. But thats the common human-like behaviour.When something differs from the others is immidiatelly considered a monstrocity. But that's not right! Just because something is different, that doesnt mean that it is ugly, or bad. Anyway I can trully be myself in this wiki.That's because the people in this wiki have really "SEEN" the movie like me and they can understand me just like I can understand them. So, endingly I have a message for everyone. It may sound usual and boring, but it's simple and it's the truth. NEVER, EVER , EVER , GIVE UP.
JAKE SULLY:
| | | |
| --- | --- | --- |
| " | Everything is backwards now, like out there is the true world and in here is the dream. | " |
Jake (along with Neytiri) is my favourite character, in general. I relate to that character almost 98 %. It's just ridiculous (in the good way) that we have soooo many things in common! My character is almost the same with his.He is a warrior, dissapointed by life, emotionally and physically broken. He has a good heart, although sometimes , especially in the beggining, his marine attitude gets in the way of that. At first, he may seem callous and sarcastically indifferent, but as he becomes familiar with someone, he begins to trust and respect them. He is courageous, determined, and passionate. In his own words, "Told my self I could pass any test a man can pass". He later also proves that he can pass any test a Na'vi can pass. Despite being a human born, he falls in love with Neytiri. A relationship, like no other. Jake is a very good warrior, despite the fact that he is sick and tired of wars.I really like that aspect of him. I love it how furious he gets, when it is about to save the ones he loves. Jake is a man that always wanted to bring peace, but his dissability, got in his way.He does not forget friends, also he is very caring and generally, a good and really strong spirit. His character is very deep and complex, full of bad memories and broken will. But in the end, he finds his true self and even more...... finds true love.
NEYTIRI:
| | | |
| --- | --- | --- |
| " | Our Great Mother does not take sides, Jake. She protects only the balance of life. | " |
Neytiri, along with Jake, is my favourite character.She is just sooooooo beautiful.Words cannot describe her.She's gorgeous, in her inner beauty and physicall beauty.She is a strong, beautiful and pure spirit.She is also kind, strong willed, smart , brave and most importantly, she isnt afraid to follow her heart.She takes risks and isnt afraid to pay the consequences.She falls in love with Jake, despite the fact that her parents didnt want her to. She always moves me, with her so pure spirit and personality...Also, even though she respects life, she is a formiddable warrior.She does difficult things, despite the fact that she is a princess.She is a very emotional character. I simply love how she's a great warrior and at the same time, a beautiful, pure, kind and warm person. Her character is the purest I have ever seen. She "sees" everything with true emotion.
My favourite aspect of the film.
Actually, every aspect of the film is my favourite, but I would say that the love story, between Neytiri and Jake is the strongest part of the film.They start to evolve love for each other, when Neytiri is trying to teach Jake the Na'vi ways of life.They go through a lot a difficult situations, together and they learn each other.When they finally accept each other to become mates, you can see their love clearly.If you only look at their eyes, you can see it.Their strongest moment together is when Neytiri saves Jake's dying body, after the Final Battle.They look each other with such emotion....I mean, I cannot describe it. An image, is worth a thousand words. Their look was so strong, moving, touching, pure and deeeeeeeeep.Neytiri, starts crying in hapiness, while holding Jake in her arms.I cry at that pure scene every time.Also, at the ending, Neytiri watches over Jake's both bodies(Human and Avatar), as her mom tries to put his soul in his avatar body, permanantly.When Jake dies as a human, Neytiri, gives him a soft kiss in his cheeks, as if she's saying:" I will forever love you, no matter the body.I accept you for your soul".I also cry at this scene.It's just so pure, so beautiful, so moving. So, Avatar is my #1 most favourite movie. There's no way it can be reached 'cause there's only one James Cameron. So it's official: My favourite movie is also the best movie ever made!!! And how did Avatar win every movie? What weapons did it have? The strongest of all, in all of it's greatness.LOVE.
The result of Avatar in the box office...The best judge is the entire world...And the following numbers speak for themselves...They show us the magic of Avatar
When Grace dies, Jake along with his beloved Neytiri, uses all of his rage and power and gives the Omaticaya clan the most heroic speech I could possibly imagine. Below there is the speech in Na'vi.

Fpole' sawtutel 'upxare.... Ayoeri tsat neu.Tsun mivunge. Sla ayngar 'upxaret fpίye' for! Kamakto nίwin , ayngati! Ayolo' ru alahe peng ziva'u! For peng syeraw Toruk Makto! Tswayon set oehu! Ma smukan, ma smuke! Sawtute wίyintxu ayoeng....Ke tsun fo ke sivi! Fίtsenge....AWNGEYA!!!!!!!

In common Enlish it says :The Sky People have sent us a message.... That they can take whatever they want. And no one can stop 'em. Well, we will send them a message. You ride out as fast as the wind can carry you! You tell the other clans to come! Tell 'em, Toruk-Makto calls to them! You fly now! With me! My brothers, sisters! And we will show the sky people..... That they cannot take whatever they want! AND THAT THIS......... THIS IS OUR LAND!!!!!!!"
People I consider friends on the wiki.
Oel ngati kameie, ma smukan , ma tsmuke(I see you, my brothers, sisters).
Drawings I've made as a tribute to this amazing more-than-movie film. Also, I have some others' users' drawings displayed.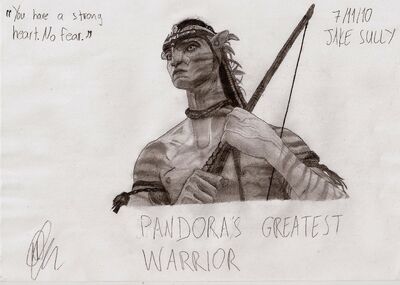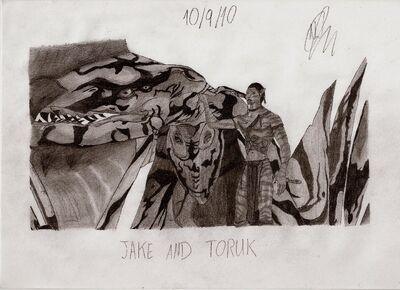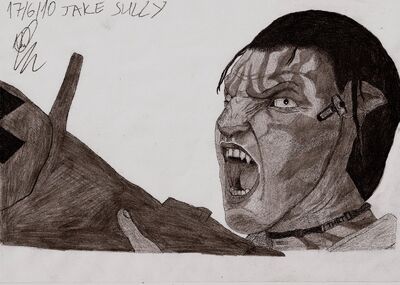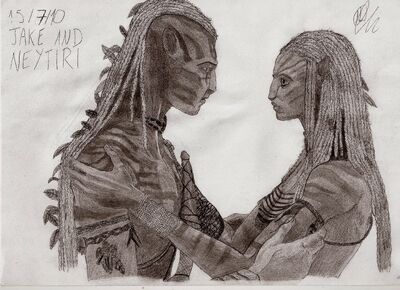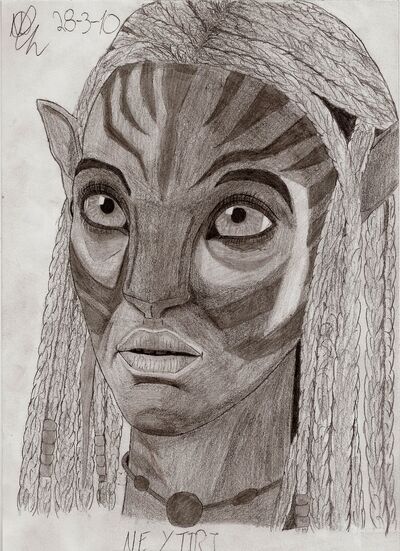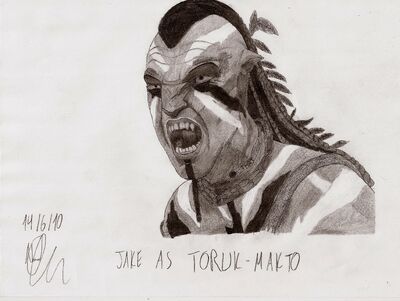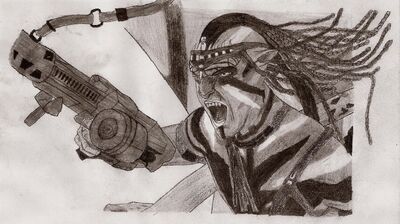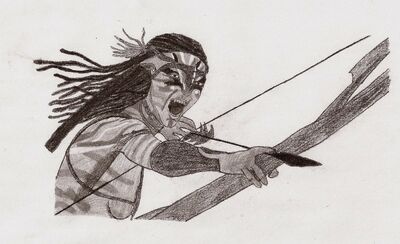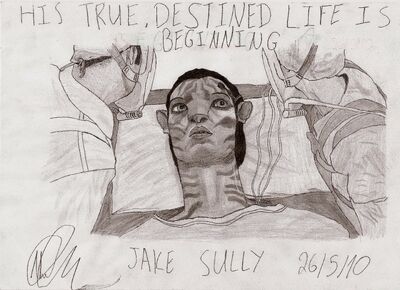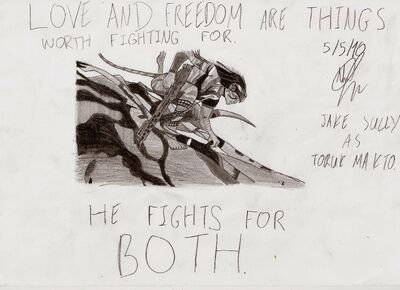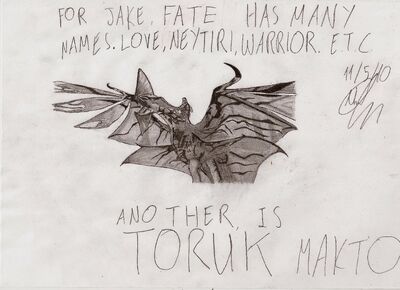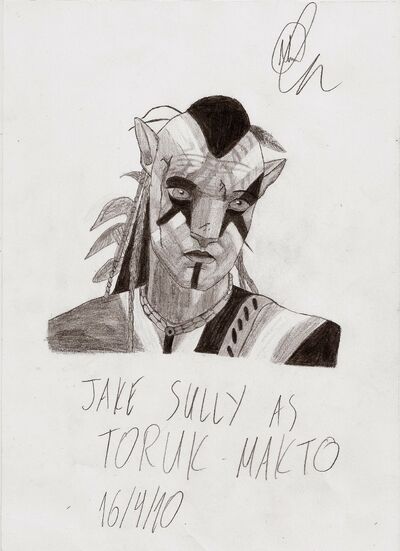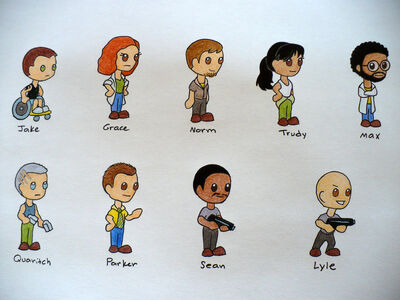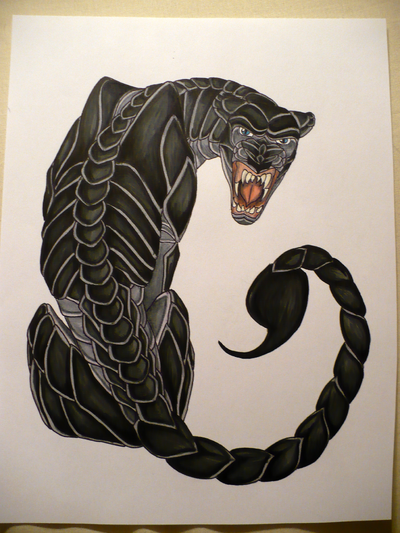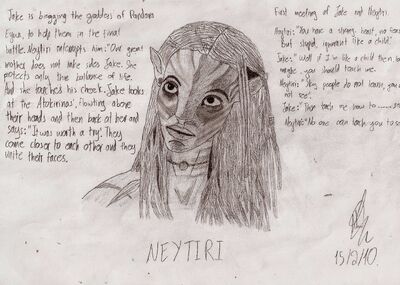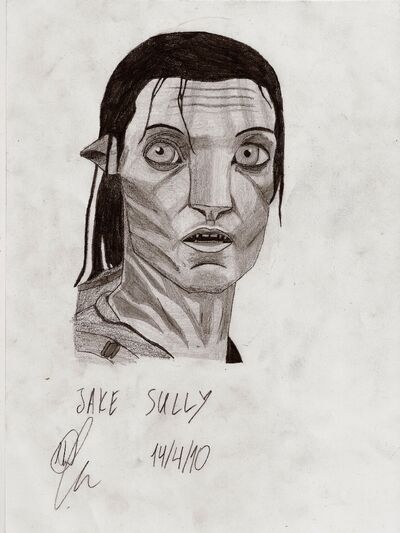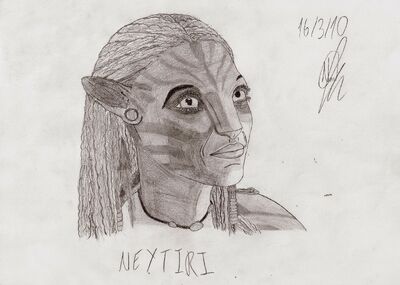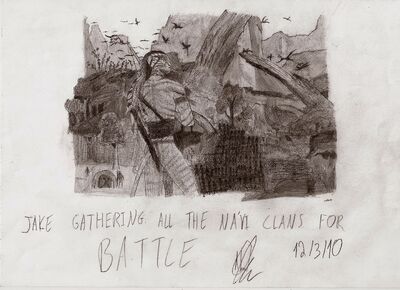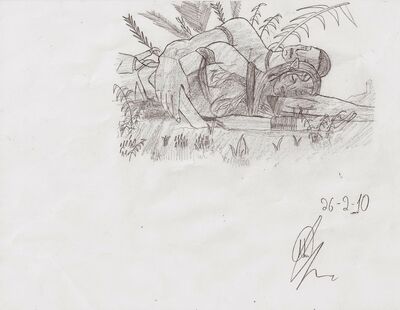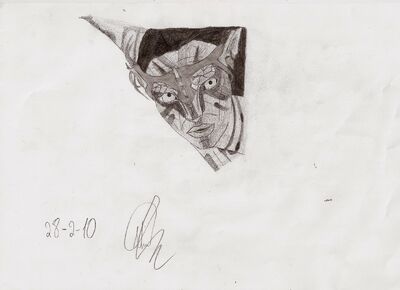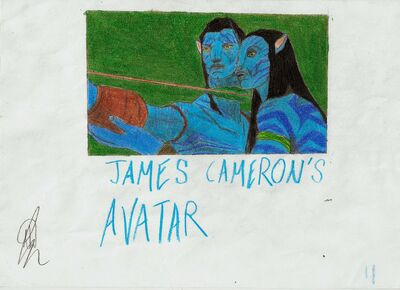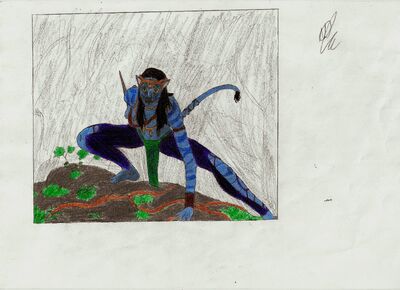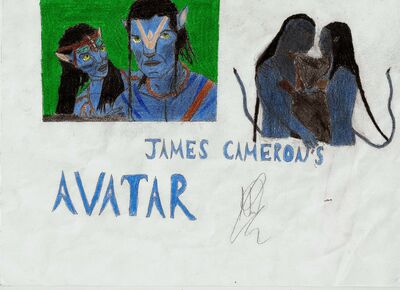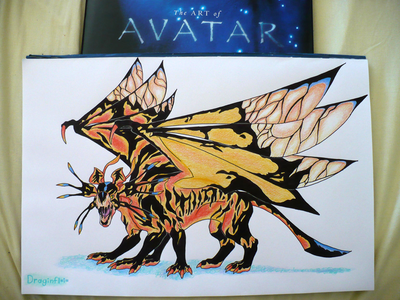 My favourite images and videos. Actually, all of the scenes/moments in the movie are my favourite, but here's some of 'em.