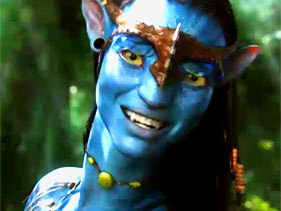 What I'm doing atm.
Dancing around the universe!
Status:Respond within 24 hours (Even though I'm dancing!)
My Shouts
Edit
How would you feel if someone told you there was an Avatar convention near your house, so you dress up in blue make a tail and braid your hair.Only to arrive at an Avatar the last airbender convention... :(
Pssst... Hey you, Yeah you, Join IRC right NOW!!!!! While your at it join the Avatar Forums too!
I Think that I have finally found out why I am attracted to Neytiri so much. Not only does she have the perfect personality I would look for, She has big eyes, pointy ears, and a tail. I have recently discovered that is something I like O_o who'd have thought???
JOIN, THE AVATAR FORUMS, NOW!!! It is getting lonely in there...
Hey guys sry Ive been gone so long but Ill be back soon. BTW this was made with my new iPhone :)
Yay! I am now an admin on the Alpha and Omega Wiki.
Yay for Fran, my new avatar!
Pink mini laptops SUCK!!!!!!
KICK-ASS was awesome!
We watched Avatar at school today!!! O_o
Avatar's Influence on ME
Edit
Walking out of the theater On December19th was such a chilling experience for me. As I stepped out the bitter reality of mankind slapped me across the face like I never would have imagined. Long term affects have in all been good to my surprise. It made me a better person through and through, when I see trash that isn't mine I'll go out of my way to pick it up and dispose of it properly, and it inspired me to become more physically fit (believe me I've come a long way since then). I have had other effects too, but minute and probably not note worthy. Several months later I have seen it fully through Seven-teen times (March 27) and still can't get enough! Avatar Also inspired me to finish, or at least pick back up my novel and start writing again.
My Userboxes
Edit
100 Edits [X]
250 Edits [X]
500 Edits [X] (woot!) Jan. 22, 2010
1000 Edits! [X] (Dominated!) April 24, 2010
2,500 Edits!!! [ ]
See Avatar 5 times [X]
See Avatar 10 times [X]
See Avatar 15 times! [X] Feb. 24, 2010
See Avatar 20 times!! [X] April 30, 2010
See Avatar 50 times!?!? [ ] (I won't be getting this anytime soon... Current views 25)
100 Avatar pictures [X]
250 Avatar pictures [X]
500 Avatar pictures! [ ] (current pic count 330.Thanks to Adamkpl for the 200 something pics!)
Learn some of the Na'vi language [X]
Learn a lot of the Na'vi language [ ]
Learn all of the Na'vi language [ ]
Read the whole Activists Survival Guide [ ]
(Not really site or Avatar related, but more along the lines of personal achivements)

Become so awesome at drawing, that I surprise myself with my own work! [X]
Save enough money to get me on of these. [ ]
Buy a drawing tablet (not the one above) [X] (I LOVE THIS THING!!!!!)
My Avatar Stuff
Edit
I have the following items in my possession,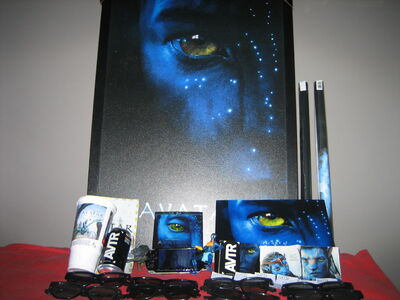 THE BLU-RAY!!!:)
1 Avatar shirt.
2 posters, that will be framed soon, before I even open them.
330 images on my PSP.
The soundtrack for the movie. (downloaded it from i tunes)
2 toys that I got from one of my friends that works at McDonalds.
Oh, and not to mention, ten pairs of 3D glasses from this movie alone.
1 can of coke that has AVTR on it.
Well you can't really say in my possession, but in my knowledge? I have a basic understanding of the Na'vi language...yes thats right I am going to learn it *Eye is twitching*...
A cup from McDonalds that my friend actually saved and gave to me for a present. I'm so special!!!
I also have a version of the movie on my PSP! Now I can watch it anytime I want, even at school!
AVATAR an Activists Survival Guide.
The Art of Pandora concept art book.
Neytiri themed browser! (RIP) I changed it to something more suited for me...
A 24x36 inch painting.
My Hobbies
Edit
Playing video games like gears of war II. I like to dream all day about Avatar and write and draw stuff for the movie. LOVE to write books. I actually started a serious fantasy novel that I hope to publish some day called the Soul Swords (Subject to change the name!) I love to draw for my favorite things such as Final Fantasy, GoW, and of course Avatar. I play only one sport and that is hockey (No I am not Canadian, but my German lineage might have something to do with it...) I now have a new hobby... I love furries! I have a new favorite comic based on furries, but I will not disclose the name of it here because of the language amongst other things... Well I would say after 130 hours of gameplay (and Counting) and an attack stat in the millions (and rising) Proof of those statements... playing Disgaea 2 is a hobby of mine...
My Favorite Quotes
Edit
Avatar
Neytiri-"you are like a baby! Making noise don't know what to do!", "I trusted you!"
Jake-"Yeah, check it out! Crap!" "HISSSSS" At Quaritch in the final battle.
Grace-"Don't play with that you'll go blind." , "OH SHIT!" "well what did you expect, numbnuts?!"
Trudy-"you're not the only one with a gun, Bitch!" , "Ain't that a bitch."
Norm-"Looks like you. This is your avatar now, Jake."
Quaritch-"I could do that.""You think you're one of them? Time to wake up!"
Selfridge-"What the hell have you people been smoking out there?! There just god damn trees!" "I like this guy!"
Lyle-"yeah, yeah, baby! GET SOME!" (Isn't that all he says?)

GoW
Marcus-"Oh, I was lookin' for this......Who want's toast!"
Cole-"Damn thats a lotta juice!"
Baird-"Not this juice shit again."
A. Carmine-"My gun! It keeps jamming!"
Dizzy-"This, is gonna hurt."
Tai-"Hahaha! We eat tonight!"
Comments I Have Seen Posted on Various Websites
"Xemnas: There's no such thing as light! Sora: Then what the hell is this? *Turns on a lamp*"
"If we don't have it, you don't need it!"
"Dance Dance Freaky, around the universe!" (actually this is from what LuckyMan assigned as my theme song >_<)
My Favorite Vids
Edit
Gears of Awesome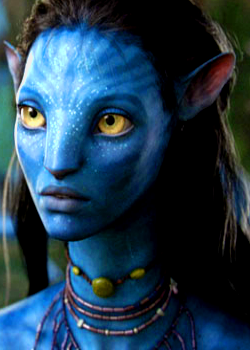 Yes I was bored, and yes I stole this from Draginfli.
If it is a Thursday I am most likely talking to you from school.
Random spam is just my cat Jack saying hello.
This<--- is the 1,413th word on this page.
I joined on my birthday!!!
The thing at the top of this page is a personal experience...
I HATE The Last Air bender with a passion.
I want the voters for the Oscars to go commit mass suicide...
The best bands ever are Trivium, As I lay Dying, and Gojira.
As you can see I am a metal head...
The song Fireflies by Owl City reminds me of Avatar for some reason, and now I love it.
Proud creator of the Neytiri, Selfridge, Thanator, and Lyle Galleries!
Avatar withdrawl has broke me in thirty days only, this is my last time before it comes out on dvd... :(
I actually never watched it that day, guess I've learned self control over the years...
I posted this at school, Lol!
I came up with the Idea of adding the 3D images to the galleries1
I also added the colorfulness on the warning!.
The original idea for my fantasy novel changed into a love story, how that happened I don't know, but I feel it has to do with Avatar's and their relationship is a lot like jake and neytiri's but in no way the same. Oddly enough it still has a lot of action in the plot too.
I'm an admin on the Alpha and Omega Wiki!
I had to make the Fran avtar becuase the internet sucks and I couldn't find one :(
1'111 Is my unlucky number, and this edit got rid of it from my screen...
For some reason I find it really fun to make edits on the wiki from school... Like this one :P
Some of My Favorite Songs
Edit
The other places I spend my time at while I'm here at the wiki.
The Gears Wiki Took me way too long to join this one...
Avatar forums Join them please! Don't worry it's this wikis forum not some random one!
LFG It's a comic. Has violence, there I warned you.
Lockerz It a video website were you can get free stuff for watching videos, I'll tell you more if you ask.
Furaffinity Another place I upload my images and I'll be adding some there I wont be here for they could be considered graphic or offensive to some. Wether or not you think so I think of it all as art, so if you like my art check here every once in a while. :) WARNING!!! This site does contain nudity (However most is blocked or very mild.) so if you think it's offensive or whatever don't go, it's that simple. I don't want any trouble okay? You have been warned. WARNING!!!
Alpha and Omega movie wiki I am now an admin! Apparently I'm the only real editor on the site right now, so yeah all help is accepted and needed! HELP SERIOUSLY NEEDED!!!