| | | |
| --- | --- | --- |
| " | Outcast, Betrayer, Alien, I am in the place the eye does not see | " |
My Guestbook
Video List
I am an Administrator of the Avatar wiki, I'm an Anime nut, video game player, and Information technologies soon to be. I have done as much as possible to immerse myself in the world of Avatar.
Saw the movie 15 times (Jan 21)
Bought the Activist Survival Guide
Read the Project 880 script
Read the Modern script
Bought the soundtrack
Attempted to learn Na'vi
Watched/read every interview I could find
I protect and contribute to the wiki daily
I help moderate our IRC channel
If you want to reach me:
Edit
AIM: JayBo8492nd
Email: Jasonbeojekian@gmail.com
Jake Sully
Edit
"Outcast, Betrayer, Alien, I am in the place the eye does not see"
"Everything is backwards now, like out there is the true world and in here is the dream"
"I was a warrior who dreamed he could bring peace. Sooner or later though, you always have to wake up"
"To get your banshee, you have to go where the Banshees are... UH-RAH"
"Outstanding"
"You have a strong heart. No fear. But stupid, ignorant like a child"
"You must choose your Ikran and he must choose you" How will I know? "He will try to kill you." Outstanding
"You will never be one of The People"
Grace Augustine
Edit
"OH SHIT"
"They are just pissing on us without even giving us the courtesy of calling it rain"
"Just relax and let your mind go blank. It shouldn't be hard for you"
"This is going to ruin my whole day"
"There are many dangers on Pandora, and one of the subtlest is that you may come to love it too much"
Miles Quaritch
Edit
"That's one big damn tree"
"Nothing is over while I'm still breathing"
"It is my job to keep you alive. I will not succeed... Not with all of you"
"These dumb sonsabitches aren't getting the message"
"And that's how you scatter the roaches"
"Sure they could fix me up, make me look pretty again, but I kinda like it. Reminds me of what we are dealing with everyday"
Miscellaneous
Edit
"A rock sees more" ~ Tsu'Tey
"Tomorrow, here, 0800, try to use big words" ~ Dr. Max Patel
"Alright ladies, let's bring the pain" ~ Lyle Wainfleet
"What the hell have you people been smoking out there? They're just god-damn trees! ~ Parker Selfridge
"Check it out, Meals on Wheels" ~ Sean Fike
"Ain't that a bitch" ~ Trudy Chacon
The Trophy Rack
Edit
Here are the various vandals that I have banned over the time of my Adminship. Some of you may know, I ban people through the use of crushing them with Hometree, yes Hometree is my banhammer.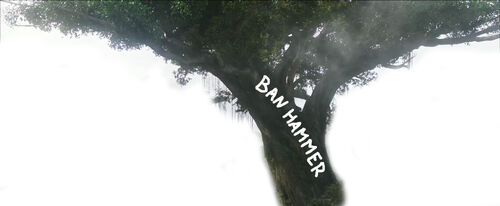 Banned users
Edit
71.65.103.166
68.183.6.33
24.177.49.247
203.87.179.138
141.156.170.129
72.165.80.2

Banned for 3 months

Banning proxy 69.255.195.204 1 year

96.38.231.135

Banned for 1 year (Did not know who he was f***ing with)

78.92.63.232
Doctorseaweed
70.49.14.54
65.93.24.102
71.217.29.145
76.69.36.56
217.149.202.67
65.161.86.100
124.169.251.133
81.153.247.7
69.245.130.142
82.109.84.114

Banned for 2 weeks
Banned again for 1 year

Avatastic
Peter021
62.163.14.93
60.241.198.190
92.235.183.8
WikiBattles
89.78.243.46

Banned for 1 month
Banned again for 1 year

71.186.252.99
71.169.119.101
78.3.58.251
76.106.28.175
89.78.243.46
My Avatar Experience and Why I love it
Edit
How I saw it
Edit
I never heard much of this movie at all during it's production, It had more of a viral following that I wasn't part of. I only heard of it once 1 about 2 years back while I was digging around Weta Works website. Weta Works are the ones who did a phenomenal job on the Avatar CGI. I was looking for info on a movie they were making, which wasn't listed, but under the heading "Under Production" was a movie called Avatar. I clicked the link and all there was was a picture of an AMP suit in a swamp. After that, I never heard of it again until the Hype Machine finally turned on months before release.
I never thought much of it after I saw the previews, it looked nice, I may go see it, but never anticipated it. Then after its release, its all people are talking about, how amazing the story, characters, the visuals, and if you don't see it in 3D you are missing out on something outstanding. So, Christmas break happens to be going on, a few of my buddies are back home from college, and I hammer a get together to go to the theaters. But I wanted the ultimate experience, so we set our eyes on an IMAX, which is an hour away in a mall. Show time is 7, we show up at 6:30, and its sold out, next IMAX showing, 10:40, so we buy our tickets right there, and waited for 4 hours. Got out of the theaters 1 in the morning, went home speechless.
Why I love it
Edit
I'm an a huge Fantasy fan. There has been a HUGE lack of decent to amazing level fantasy movies probably since Lord of the rings. Not only was it an outstanding Fantasy, it is original, no rehashing of dragons, orcs and goblins
I'm also A pretty big SCFI fan, and more of a realistic SCFI. When the tech can be explained in a reasonable matter, which is true with 90% of the avatar tech. (psyonic link breaks this trend) Even though the tech is never really explained in the movie, they still were stunning to see and it didn't take to much more effort to look it up.
I'm a sucker for a love story that isn't a soft one, The way the relationship between Jake and Neytiri was right up my alley, not mushy in the least. The connection was made through all their hard work and training, and it just kinda creeped in.
I saw it in an IMAX the first time, that is the ultimate showing of the technology that has been born with this film. I too am a tech nut and I was blown away by the stereo camera lens and the EMOKAP systems. Plus the 3d wasn't about throwing objects into the crowd or poking with spears, it was immersive instead, it changed from watching a 3d movie to being there in the story.
My Links
Edit
User:JayBO/signature
User:JayBO/IRC
User:JayBO/guest
User:JayBO/monaco.css

=== Favorite Moment ===