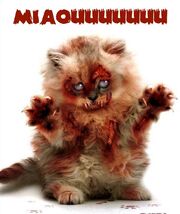 Greetings to all Avatar fans. I definitely have not seen Avatar enough, but unfortunately I have to limit my viewings because of the necessity of feeding my children. I know I spelled "Skxawng" wrong. It is a joke between my best friend and me (someone else is the true moron, I am only partially so). I have the Guide, finally got the sound track and the art book, and am anxiously awaiting Cameron's novelization of the movie. It will join the other thousands (literally) of books on my shelves. In my spare time, I teach high school English. Now you all hate me. :-) I think I'll go see Avatar again... By the way, I haven't played a video game since Atari was around. SO much for the theory that only gamers like Avatar. :-)

My picture, by the way, is a zombie kitten. Matias gave him to me. :-) Isn't he adorable?
Thanks to Matias Arana and JayBo, I am now a Rollback. Bring it on, Vandals!
I have also been granted the title of "Wiki Shaman of Reality" by my fellow Wiki Shamans, Ghaziya and Robin Audrey. Apparently I add a touch of reality to this wiki with my limitless wit and wisdom pertaining to such diverse topics as zombies and the caloric content of broken cookies. Who knew?
My favorite quotes
Edit
"The best times in life are the ones where you can genuinely add a 'bwa' to your 'ha.'" LuckyMan
"When you choose an action, you choose the consequences of that action. When you desire a consequence, you had damned well better take the action that would create it." Lois McMaster Bujold
" Oh, I'm sorry. You were under the impression that I cared." Connor MacDonald (former student)
Scary Pics
Edit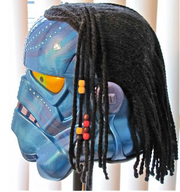 A long time ago, in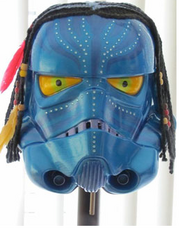 a galaxy far, far away, Darth Vader made a crash landing on Pandora.
Zombie Deer Victim
Edit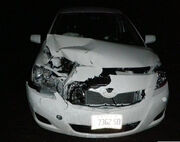 2010 Toyota Yaris with 3600 miles, attacked by a zombie deer in the woods in central Maine.