I want this so badly it is one of Mattel's finest and most detailed looking of James Cameron's Avatar collection. I hope that Mattel will consider releasing this set to stores sometime this fall or December. I would love to hear anyones opinion on this. I hope we can expect more Avatar figures like this in the future.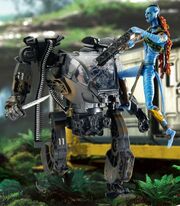 Ad blocker interference detected!
Wikia is a free-to-use site that makes money from advertising. We have a modified experience for viewers using ad blockers

Wikia is not accessible if you've made further modifications. Remove the custom ad blocker rule(s) and the page will load as expected.