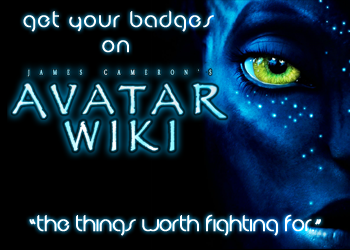 Some of you may have noticed that in place of your edit count that you worked your tails off to get up as high as it was, there is now a points system. Don't worry, you can still see how many edits you've made by looking next to your name. Now, these points that you see in the upper right hand corner of your "My Home" page are the result of a new badges system that Matias has implemented. This idea came about when Matias was browsing the other successful wikis (Red Dead Wiki, Iron Man Wiki, in the future Avatar Wiki etc.) and came across the great idea of rewarding those loyal hard working editors with superficial shiny objects. I personally created the pictures and named about 90% of the badges, so you can be assured that these are quality items. You can check which badges you have received and which ones you can still get on your individual user pages, and you can also request new badges when I get my the request page up.
One thing to be aware of, the badges start as soon as I turn on the extension, and do not include past events. So if you have lots of edits prior, you will not get credit for this. This means everyone is starting at the same point. You can also disable the achievements in Special:Preferences, just go to Misc, and disable it.
If you're curious to see how you stack up against the most dedicated editors in terms of badge points, just go here. This page has also been added to the navigation bar at the left of the wiki.
I suppose this is also a good venue to announce my promotion to admin, that I received at 4:30ish Pacific time today. So, you can now come to me if you have any questions about editing, or especially photo manipulation. So, feel free to leave comments and/or questions on my talk page (which may or may not give you a shiny new badge) and just remember that...I have the power to ban people now. :P
Now, one of the most important things, this is not a contest. It's a way to keep the community more active and to attract new users, so if you edit pages, create blogs, or upload images just to get points, you will be warned, and if you continue to abuse this privilege, you will be blocked immediately for 1 month.
Now, happy editing!
Ad blocker interference detected!
Wikia is a free-to-use site that makes money from advertising. We have a modified experience for viewers using ad blockers

Wikia is not accessible if you've made further modifications. Remove the custom ad blocker rule(s) and the page will load as expected.