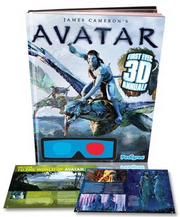 Has anyone else seen one of these? I came across the Avatar 3D Annual 2011 whilst I was out shopping today. I didn't get it, but it does look like there is some usable information in it. There's some art I hadn't seen before in it as well. I've already made a basic article on it, but information on the net is a bit hard to come by on the topic.
Update: Just realised that Asda are only in the UK, so unless you found it online most of you guys probably wont have come across it.
Ad blocker interference detected!
Wikia is a free-to-use site that makes money from advertising. We have a modified experience for viewers using ad blockers

Wikia is not accessible if you've made further modifications. Remove the custom ad blocker rule(s) and the page will load as expected.