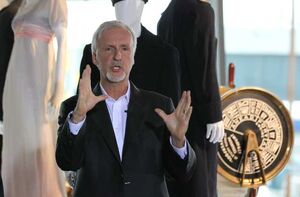 During another interview while promoting his Titanic 3D Blu-ray in northern Europe, James Cameron told about the current state of the next two Avatar sequels. He said that he would put himself into his "top secret writing cave" to get both scripts done until the end of the year, which he describes as a "daunting writing task".
Story-wise he only said this:
"I'm writing it as separate stories that have an overall arc inclusive of the first film. I don't want to suffer from the 'Matrix 2′ problem, where it just ends, like, what the hell? It's gotta end. There's gotta be a sense of conclusion, but also a sense that the journey will continue, and that's a fine line."
Pre-production is planned to start in January. So, previous stories about the production to start in fall are false, as expected.
Source: http://herocomplex.latimes.com/2012/09/10/james-cameron-avatar-sequels-a-daunting-writing-task/
Ad blocker interference detected!
Wikia is a free-to-use site that makes money from advertising. We have a modified experience for viewers using ad blockers

Wikia is not accessible if you've made further modifications. Remove the custom ad blocker rule(s) and the page will load as expected.