Ad blocker interference detected!
Wikia is a free-to-use site that makes money from advertising. We have a modified experience for viewers using ad blockers

Wikia is not accessible if you've made further modifications. Remove the custom ad blocker rule(s) and the page will load as expected.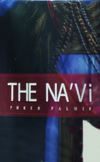 Good news for those who are still waiting for the Avatar novel that we were promised about three years ago. James Cameron has not forgotten about it. As you may have read here, James Cameron hired four screenwriters for the upcoming three films.
He now also hired sci-fi author Steven Charles Gould to write not one but four stand-alone Avatar novels. Gould has written eight novels so far. His best known novel is Jumper which was made into a film of the same name in 2008. He is president of the Science Fiction and Fantasy Writers of America, an association of professional sci-fi and fantasy authors with about 1800 members.
Here is what James Cameron had to say: "Steven Gould is one of the shining lights in contemporary science fiction, and I've long admired the worlds and characters he's created in his books and stories. We're very fortunate to have Steven bring his formidable talents to the 'Avatar' universe. He is already working closely with me and the screenwriters to flesh out the expanding world of 'Avatar'."
---
Sources:
http://www.comingsoon.net/news/movienews.php?id=108104
http://en.wikipedia.org/wiki/Steven_Gould