I heard somewhere that Avatar, as in the great and epical James Cameron film that we have come to love so much, is being described as a chick flick. Not to say that is a bad thing, well it is, but. I don't understand it. Avatar yes was a romance above anything, and that's what I love about it, but does it being a romance automatically turn it into a chick flick? Not to me. I look at a film like The Ugly Truth or The Prince and Me and say there is a chick flick, a film told mainly from the woman's point of view and makes them look right, even when they aren't. What made Avatar so unique is that it took a romance and made both parties look like respectable people with decisions that are all understanding. When Jake is thought to be a traitor, Cameron makes him look like a misunderstood man who understands the consequences to his mistakes. And for that matter when Neytiri gets mad at Jake for being, what she thinks, a traitor to the Na'vi she gets angry at him and Jake understands why. What do you guys think about Avatar: The Chick Flick?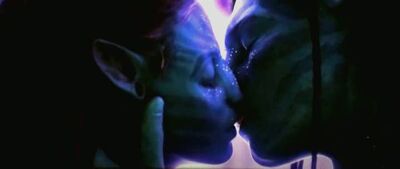 Ad blocker interference detected!
Wikia is a free-to-use site that makes money from advertising. We have a modified experience for viewers using ad blockers

Wikia is not accessible if you've made further modifications. Remove the custom ad blocker rule(s) and the page will load as expected.