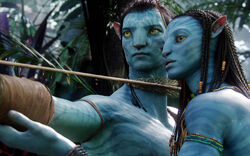 Good news for Avatar fans, interesting news for James Cameron aficionados? James Cameron recently announced that he will never make another film aside from the Avatar franchise!
"I'm in the Avatar business. Period. That's it. I'm making Avatar 2, Avatar 3, maybe Avatar 4, and I'm not going to produce other people's movies for them. I'm not interested in taking scripts…I think within the Avatar landscape I can say everything I need to say that I think needs to be said, in terms of the state of the world and what I think we need to be doing about it. And doing it in an entertaining way."
It's an interesting way to go, considering that two of his movies broke all records for most successful film ever. What do you think about his decision to focus on Avatar? Could it extend further than a trilogy?
You can read the full interview at NY Times, which contains tidbits about Avatar 2 as well.
---
---
Ad blocker interference detected!
Wikia is a free-to-use site that makes money from advertising. We have a modified experience for viewers using ad blockers

Wikia is not accessible if you've made further modifications. Remove the custom ad blocker rule(s) and the page will load as expected.