Comments

0
AVATAR DVD/Blu-ray Arrives April 22 - Cover Art
Ad blocker interference detected!
Wikia is a free-to-use site that makes money from advertising. We have a modified experience for viewers using ad blockers

Wikia is not accessible if you've made further modifications. Remove the custom ad blocker rule(s) and the page will load as expected.
20th Century Fox has finally announced James Cameron's Avatar will be released on DVD and Blu-ray on April 22 - which is the 40th Anniversary of Earth Day. While we all know we'll eventually get a spectacular special edition of the highest grossing movie of all time, this first edition will be extremely bare bones. And when I say bare bones…I mean literally nothing but the movie. So if you need to own Avatar as soon as it's available, this edition will suffice. But I'd wait till the end of the year when Fox will release a great special edition. Hit the jump for the press release and the Blu-ray cover art.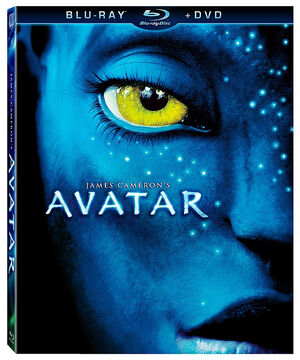 "
TWENTIETH CENTURY FOX HOME ENTERTAINMENT

ANNOUNCES AVATAR BLU-RAY DISC AND DVD GLOBAL RELEASE DATES

Much-Anticipated Blu-ray and DVD Launch of James Cameron's History-Making Epic Begins April 22 - Coinciding with the 40th Anniversary of Earth Day

LOS ANGELES (March 16, 2010) - Twentieth Century Fox Home Entertainment today announced that it will launch director James Cameron's history-making motion picture AVATAR on Blu-ray Disc and DVD on Thursday, April 22.

AVATAR on Blu-ray presents the ultimate high definition experience for home viewing audiences. Fans around the world will soon be able to discover every detail and relive every moment of James Cameron's AVATAR in the comfort of their own home. Blu-ray is recognized for presenting optimal picture and sound, and now AVATAR's masterful cinematography, art direction and visual effects will lend itself to awe-inspiring clarity when you become absorbed in the extraordinary all-encompassing experience in the living room.

Since its global theatrical release last December, AVATAR has continued to make motion picture history. Written by James Cameron and produced with his long-time collaborator Jon Landau, AVATAR stars Sam Worthington, Zoë Saldana, Sigourney Weaver, Stephen Lang, Michelle Rodriguez, Giovanni Ribisi, Joel David Moore, CCH Pounder, Wes Studi and Laz Alonso.

Oscar® and Golden Globe® winning epic is the highest grossing film of all time, taking in over $2.6 billion in worldwide box office. Director James Cameron takes audiences to a spectacular world beyond imagination, where a reluctant hero embarks on a journey of redemption and discovery as he leads a heroic battle to save a civilization. AVATAR delivers a fully immersive cinematic experience of a new kind, where the revolutionary technology invented to make the film disappears into the emotion of the characters and the epic nature of the story.

AVATAR will be available on Blu-ray Disc and DVD everywhere in the United States and Canada on Earth Day, April 22. Please see below for additional release dates around the world:

FRANCE - April 21 BELGIUM - April 21 NETHERLANDS - April 21 SPAIN - April 21 CHINA - April 22 BRAZIL - April 22 RUSSIA - April 22 NORTH AMERICA - April 22 GERMANY - April 23 JAPAN - April 23 SWITZERLAND - April 23 MEXICO - April 23 UK - April 26 DENMARK - April 27 NORWAY - April 28 SWEDEN - April 28 NEW ZEALAND - April 28 AUSTRALIA - April 29 FINLAND - April 30 ITALY - May 6

"
Source: http://www.collider.com/2010/03/16/avatar-dvd-blu-ray-arrives-april-22-cover-art-and-info-here/