If you voted in the other poll, (more on new skin) I apologies, please vote here if you already haven't. Don't worry about the compromise skin anymore, just these 2. After a few points were made I decided it was smarter to continue with the original poll, but with more advertisement to this page.

JoePlay from wikistaff has offered to make the avatar wiki a new skin and background, now because the admins staff is few and you are many, our thoughts can't possibly be the same as yours. So we are here to show you our first possible skin and background, that you can see here, as the main page, and here in an article.
>So please vote to use this skin, keep the old skin, or would like a new skin, but no this one in this poll, and tell us why you do or dont like it so we may make a better attempt next time. That being said there is nothing wrong with the current skin, and doesnt have to change, but seeing what other choices there are is always good.
Note: We are aware that the current Wiki logo does not blend well, but we can change that easily. </font>
Check out the new skin, and tell us what you think!
Please comment below for possible changes in the possible new skin, like changing the main page image (streaching it), changing colors, etc.: >Here are examples of what the actual wiki looks like, the little preview doesn't do the skin justice.
Transparent, Blue Borders, Blue Links
The one you see now, we have a second possible background, but the choice here is more about the blue links and borders a transparent background.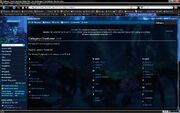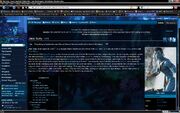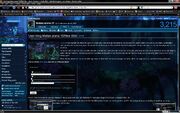 Ad blocker interference detected!
Wikia is a free-to-use site that makes money from advertising. We have a modified experience for viewers using ad blockers

Wikia is not accessible if you've made further modifications. Remove the custom ad blocker rule(s) and the page will load as expected.