BAD NEWS,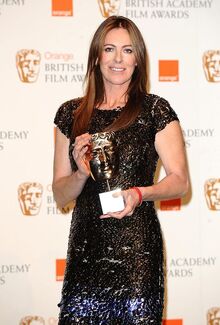 IRAQ bomb disposal drama The Hurt Locker has won six accolades at the British Academy of Film and Television Arts awards 2010 tonight.
Kathryn Bigelow (pictured above) won best director for the feature, which was also named best film at the London ceremony. Its writer Mark Boal was honoured for best original screenplay, while the gritty drama also won in the categories of cinematography, editing and sound.
Bigelow said: "This is so unbelievable, we're just so deeply honoured and humbled. I was so, so lucky to have an incredible cast and crew. This is really amazing and humbling.
"I would like to dedicate this to never abandoning the need to find a resolution for peace."
Duncan Jones (pictured right), director of space drama Moon, won the gong for best debut by a British writer, director or producer.
Avatar - made by Bigelow's ex-husband James Cameron - was nominated for eight awards (as was The Hurt Locker) but had to be content with winning just two gongs, in the categories of production design and special visual effects. Analysts are predicting it could have greater success at the Oscars.
Twilight's Kristen Stewart won The Orange Rising Star award while Christoph Waltz was named best supporting actor for his role as a nasty Nazi in Tarantino's revisionist war thriller Inglourious Basterds.

Here's the full list of winners:
Best Film - The Hurt Locker
Leading Actor - Colin Firth (A Single Man)
Leading Actress - Carey Mulligan (An Education)
Supporting Actor - Christoph Waltz (Inglourious Basterds)
Supporting Actress - Mo'Nique (Precious)
Outstanding British Film - Fish Tank
Outstanding debut by a British writer, director or producer - Duncan Jones (director - Moon)
Director - Kathryn Bigelow (The Hurt Locker)
Original Screenplay - The Hurt Locker (Mark Boal)
Adapted Screenplay - Up In The Air (Jason Reitman, Sheldon Turner)
Film not in the English language - A Prophet
Music - Up (Michael Giacchino)
Cinematography - The Hurt Locker
Editing - The Hurt Locker
Production design - Avatar
Costume Design - The Young Victoria
Special visual effects - Avatar
Make-up & hair - The Young Victoria
Short animation - Mother Of Many
The Orange Rising Star Award (voted for by the public) - Kristen Stewart
Link.
Ad blocker interference detected!
Wikia is a free-to-use site that makes money from advertising. We have a modified experience for viewers using ad blockers

Wikia is not accessible if you've made further modifications. Remove the custom ad blocker rule(s) and the page will load as expected.