Zone Control
Location Information
Location
Residents
Behind the scenes
First appearance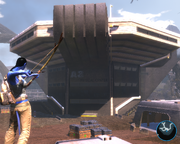 The
Zone Control
is an area in the west of the
Kxanìa Taw
region. It is the
RDA's
largest base in the region, surrounded by a
security fence
. It contains a
helipad
, a
control tower
, several satellite dishes and numerous smaller buildings around the A3 Medical Center. There are two gates in the fence, which connect the base to the
Excavation Site
and
Eywa's Walk
.
Avatar: The Game
Edit
Beyda'amo led an attack on the base in 2152. They caused a herd of sturmbeest to charge at the main gate, which was not shut in time and was easily thrown aside by the charging animals. The warriors of the Tipani clan followed in their wake, combatting the remaining Security Operations forces while Able Ryder went after the unobtanium shard that was under guard in one of the buildings. With the shard in hand, he headed north towards Eywa's Walk.
Ad blocker interference detected!
Wikia is a free-to-use site that makes money from advertising. We have a modified experience for viewers using ad blockers

Wikia is not accessible if you've made further modifications. Remove the custom ad blocker rule(s) and the page will load as expected.